Since my past two weeks were quite eventful, now that I think about it, here is a second post for your reading pleasure...
So this Friday (two days ago), we all met at school to buy tickets for Saturday night's soccer game at the Stadio Olympico. You need a passport when buying the tickets, according to a new law. So we waited in a long line to pay our £25 each. Some of us were too hungover to wait on line and sat in the sun instead?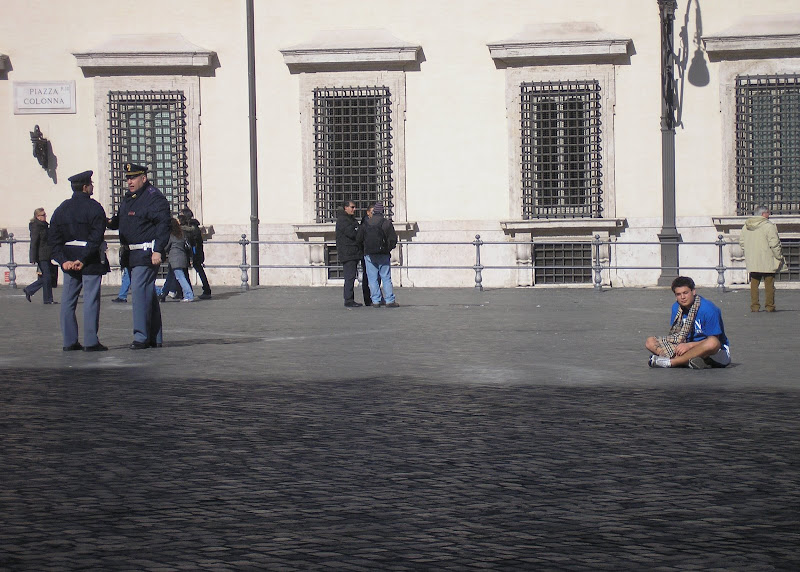 After that, I went shopping, since we were already out on Via Del Corso. I ended up buying sunglasses for £8, a Sandro Ferrone shirt for £15, a purple necklace from Rossa Fish for £15, and a black dress from United Colors of Benetton for £15. It was a great day to go shopping because the period of Saldi, or winter sales, was ending so everything was marked down even more than it had been during the month of January. Of course it wasn't the cream of the crop selection-wise, and the dress and shirt need minor repairs (I bargained for an additional £5 off the dress because of this, in broken Italian yay!) but overall, I am very happy with my purchases and the fact that I restrained myself up to this point shopping-wise. Arianna was also very happy to see my Sandro Ferrone shirt, and showed me the jackets she owns by him in her own closet.
Friday night, no one was answering their phones so I didn't have dinner plans and I rushed to the GS Supermercati which closes at 20,00 (8 o'clock), to buy some fettucine and tomato sauce. Probably not the best combination but I was desperate and pressed for time. The fettuccine was dough-like, made with eggs but not cooked all the way through, and instructed me to cook it for 4 minutes. It sounded good. It tasted good. But the next day, it didn't sit too good in my stomach.
Anyway, that night we went to a lounge/bar/club called Radio Cafè which, in all honesty, I thought was called Radio City when we arrived because of the distracting blue neon lights. You go in, pay the £8 entrance fee, and descend a stone staircase. Down below you find a space which might be best described as dungeon-turned-runway. On either side of the glowing runway are low tables and many cusions and ottomans, which lend it that NYC lounge-y feeling. A little further down the runway, passing underneath stone archways, is a dance floor with a DJ booth for the apse. We grabbed two tables and many pillows, and had ourselves a seat. We talked, danced, drank, and went home around 3 am. A good time was had by all.
Until I woke up Saturday with the worst stomach ache / nausea ever. Not hungover. Just "mal di pancia" which caused me to not even hold water down until later that night. However, I did force myself to go to the partita di calcio (soccer game) which I had already bought tickets for. I didn't even stay for the halftime show, but was able to catch the end on TV with the kids. Roma won!
I drank some tea. I ate some crackers.
Today I felt better, and had pesto and pasta with the family for lunch around 14,00. Then I went to school, made another print, worked on some Spring Break plans with Sara. We went to dinner near the metro stop by school - thanking goodness something was open at 20,00 on Sunday - and had a great chicken with rice for £7 each, while sitting outside of the Piazza del Popolo. I also learned how to correctly pronounce rice ("riso" with a rolled "r").
Came back home, Arianna wasn't here but the kids were watching another soccer game on TV. A little after midnight, she came home all decked out and perhaps a little ubriaca (intoxicated) because she said she'd been at a feste (party) for Acquario because it had been her birthday on the 3rd, and a few of her friends were also Aquarius(es?). She looked great and didn't stop smiling - it is so nice to see her healthy again, since she has been recovering from her two eye surgeries for the past few weeks. She scampered off to bed and on that note, I must do the same.