Last night, Arianna and I had a long talk after dinner about many different things, including Italian cooking. Dinner was soup made with carrot and tomato broth and pastina. She also made a delicious apple pie which tasted different than I had expected. It was less sweet and lighter in flavor than the American counterpart. She used very little zucchero (sugar) and olio d'oliva (olive oil) instead of butter. One of her sons was too full from dinner to have any, so he said he would eat it for breakfast this morning! I did the same :-)
Tonight Arianna is making fish with peppers. And by the way, we always eat fruit after dinner, like a banana or clemintines. For breakfast Arianna makes me a thermos of espresso, and I have it with biscotti. It's very nice to know that I am eating authentic Roman food, instead of just whatever I can put together from the supermarket.
Speaking of food... we visited the region Umbria on Sunday with the school, and had an authenic multi-course meal in a 16th-century castle (manor) in the town of Titignano, which lasted several hours.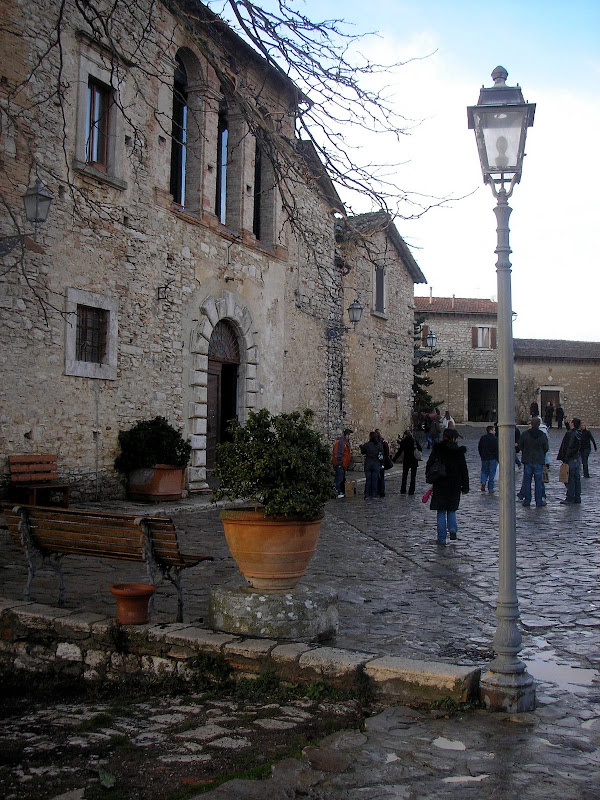 The castle "manor"
where we ate.
First, we had antipasti, which included bruschetta, prosciuto, and pizza slices with onion. Enough to fill me up right there! But I resisted having seconds because we had much more coming. Our next plate was risotto with asparagus, and then noodles stewed in wild boar. I have never had wild boar before but it did taste a lot like ham. For our second plate, we had lamb or chicken. I chose the lamb because I have never tried it before, and it was very tender and tasty. I wanted to try the chicken, too, but before I knew it, it was time for dessert. We had tiramisu, with a very strong rum flavor. In fact, if I hadn't already drank a few glasses of wine I think I wouldn't have enjoyed it so much! We also had biscotti with almonds and some sweet dessert wine for dipping and digestion. Finally, after tiramisu, we were served little espresso shots. Molto forte! (Very strong) Thankfully, we were also given sugar packets to mix it with. I think the espresso was very good to make the 2-hour bus ride back to Rome a little more bearable. Otherwise I would have done like most of the other students, and zzz.
The only not-so-enjoyable part of the excursion was the rain. It was cloudy and drizzling all day, until the very end. I still got some good pictures but I imagine that in good weather, Todi and Titignano are even more beautiful!
You can see my pictures from Todi and Titignano HERE!